Here´s the transcript of the audio posted last month – "Working from home"
Frank: So, what does it feel like working from home?
Andy: Well, like everything else in life it's got advantages and disadvantages, but I have to say I'm really enjoying it.
Frank: Skipping the rush hour traffic must be one of the big upsides, right?
Andy: It is, it's great not to have to commute to work anymore and it does help you save time and money!
Frank: Sounds good. Is it difficult to keep from distractions being at home?
Andy: At first it was. I had to make an effort and try to focus on my work and forget everything else. Also, I had to make a deal with my wife and kids and stop them from interrupting me. They had a hard time understanding that even though I am at home I'm not available for them. We established some rules and it seems to be working fine now.
Frank: I know what you mean. So it seems that working from home is definitely the trend, right?
Andy: Well, I guess it will be for a lot of people who have jobs that do not require them to be physically present at the company.
Frank: Wow, it seems like things in the workplace have been changing a lot from what they used to be!
Quer ter aulas de Business English online ao vivo? Clique aqui!
Referência: "Fale Tudo em Inglês nos Negócios!" – José Roberto A. Igreja, Disal Editora.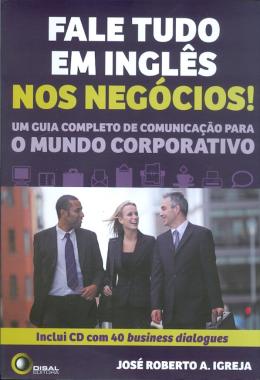 Quer ter aulas de Business English online ao vivo? Clique aqui!