Dear ELT professionals,
LET´S TALK ABOUT IT! – The Ultimate ELT Conversation Book is now available on the Amazon stores of the following countries:
AUSTRALIA     BRAZIL     CANADA     FRANCE    GERMANY   INDIA    ITALY     JAPAN    MEXICO    NETHERLANDS     SPAIN     UK     US
And if you live in Brazil, the paperback is available at a discount price on UICLAP!
(240 pages – 31 QR-CODES "even the paperback comes with built-in technology")
What´s this brand-new ELT book all about and why is it so special?
Great for online & in-person conversation classes – Ideal for B2/C1 level students
Up-to-date and engaging dialogues – Free audio available via QR CODE (print book & e-book)
589 Idioms & Phrasal Verbs introduced in a lively and easy-to-understand manner
A good variety of activities to help students recycle and consolidate vocabulary
100+ compelling topics/subtopics to talk about: 558 discussion & conversation questions
Helps students expand their vocabulary, hone their conversational skills and improve their fluency
Detailed  teacher´s guidelines on how to use the book + Key to Exercises
A must-have for ESL/EFL teachers and students around the world!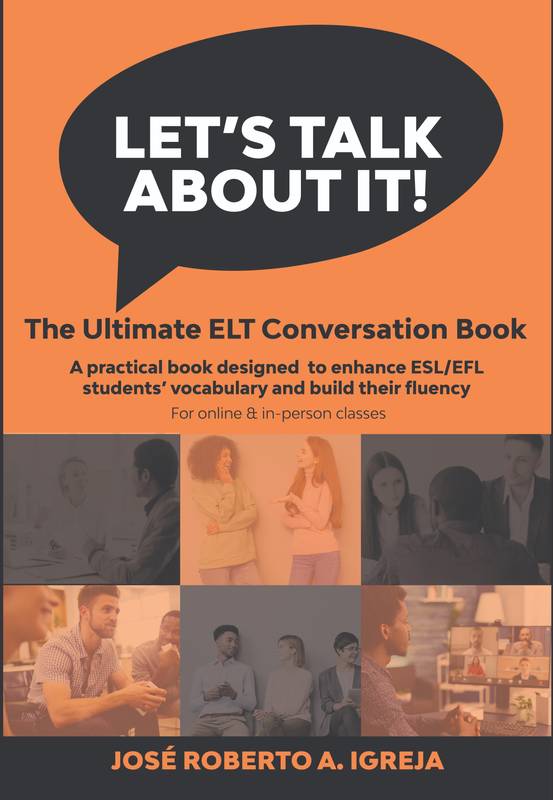 José Roberto A. Igreja holds a B.A. in English from PUC (Pontifícia Universidade Católica) in São Paulo, Brazil. He also has certificates of proficiency in English from Michigan University and BYU (Brigham Young University). He blogs at www.faletudoemingles.com.br and is an active LinkedIn member. He is the author and co-author of several ELT books, including:
600 Phrasal Verbs (with Jonathan T. Hogan)
Fluent Business English (with Robert C. Young)
English for Job Interviews (with Robert C. Young)
American Idioms! (with Joe Bailey Noble III)
Fale Tudo em Inglês – LIVRO DE ATIVIDADES
Fale Tudo em Inglês em VIAGENS!
Fale Tudo em Inglês nos NEGÓCIOS!
Fale Tudo em Inglês nos NEGÓCIOS – LIVRO DE ATIVIDADES
Inglês de Rua – American Slang (with Robert C. Young) – Now also available as an ebook!
Como se diz em inglês?  –  Now also available as an ebook!
Guia Prático para a comunicação em Inglês
Fale Inglês como um Americano (with Robert C. Young)